Cavities in Pediatric Dentistry
What are cavities and how to avoid them?
Preventing cavities is an issue known by families. They try to prevent their appearance in any of the family members. Without doubt, nobody wants cavities. Tooth decay is a disease that occurs because bacteria staying in the oral cavity take advantage of food debris to grow and end up producing "holes" in the teeth. Clearly, not brushing well and eating sugary foods favors it.
As most of us know, tooth decay may happen at all ages, including babies. For sure, cavities can be prevented by maintaining proper oral hygiene and diet. Therefore, proper tooth brushing is very important from the moment the first tooth erupts and should be done at least twice a day. At the children's and youth dental clinics we have the means and knowledge to help families keep their children's oral health in good condition.
What causes cavities in teeth?
As a child grows, the responsibility for brushing teeth and tongue properly passes from parents or caregivers to children and young people. This way, you can maintain a healthy and bright smile for a lifetime.
Normally, parents help cleaning the teeth of the babies or small children from the front and, when they grow up, from behind looking in the mirror. There comes a day when parental supervision is no longer needed.
What measures to take to prevent caries?
Preventive measures for caries are:
The use of interdental floss

Apart from proper brushing of the teeth and tongue, at least twice a day and with a fluoridated toothpaste. It is advisable to clean the interdental spaces frequently with dental floss.

The application of a 'fluoride varnish'

By your pediatric dentist once or twice a year, when regular dental hygiene that removes plaque is carried out.   

Avoid sugary products in the diet

To maintain oral health and help eliminate tooth decay, sugary foods should be avoided, especially between meals. Therefore, to avoid and replace sugary foods, sugar-free chewing gum can be substituted for regular chewing gum, for example.

Update the toothbrush frequently

Keeping your toothbrush in good condition is necessary to control plaque build-up and maintain good oral hygiene.

For sure, optimal dental health is possible if oral cavities are taken care of with the above mentioned caries prevention measures.
Update of the latest advances in Preventive Dentistry
Without doubt, Dr. Cheen Loo's lectures (*), based on minimally invasive pediatric dentistry, have illustrated the attendees in the most advanced techniques to prevent and solve any tooth decay problem that a professional in the sector must face. Therefore, taking care of tooth enamel will undoubtedly help to eliminate the possibility of tooth decay.
Clínica Boj in the city of Barcelona has been at the forefront of pediatric dentistry treatments with minimally invasive dentistry techniques for more than 30 years. From the practice, we would like to thank and highlight the professionalism of our pediatric dental team during all this time, for their work with children and young people in the metropolitan area.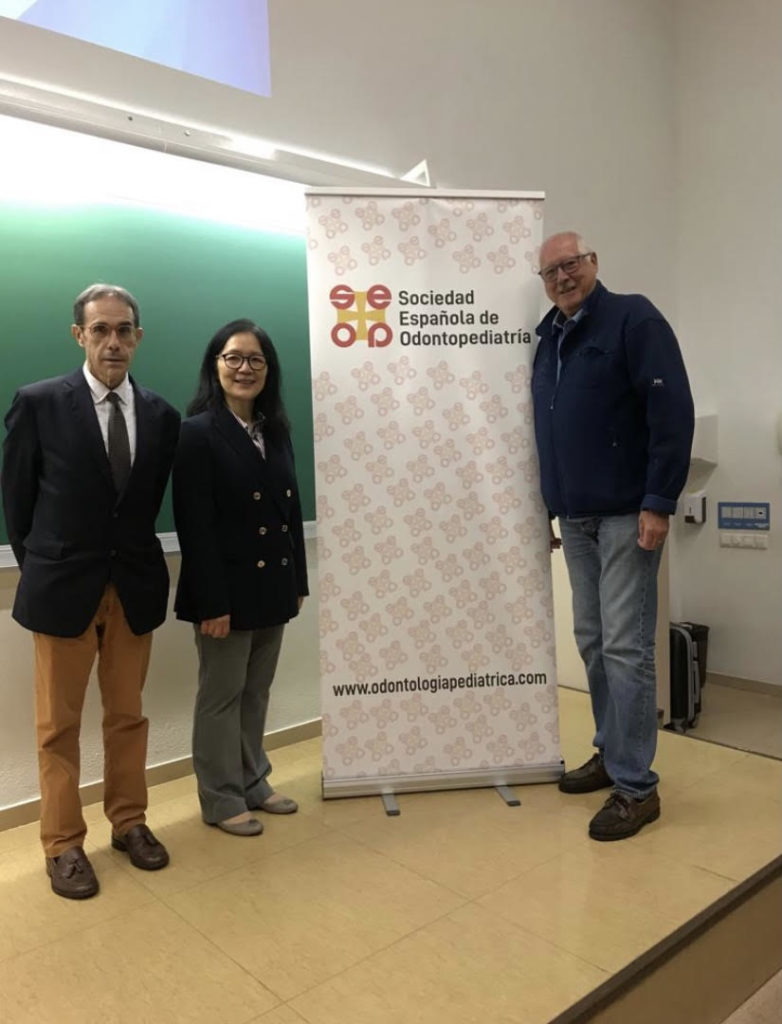 To end, we attach a photograph of the Preventive Dentistry Course held on October the 7th, 2022: Dr. Loo, Dr. Boj and Dr. Miguel Hernández, President Elect of the SEOP (Spanish Society of Pediatric Dentistry), whom we can see next to its logo.
(*) Dr. Cheen Loo is Professor and Chair in the Department of Pediatric Dentistry in Tufts University School of Dental Medicine, Boston, MA, USA.
Also, she is a Diplomate of the American Board of Pediatric Dentistry.
Overmore, Dr. Loo is a fellow of the American Academy of Pediatric Dentistry and a member of the College of Diplomates of the American Board of Pediatric Dentistry (ABPD), American Academy of Pediatrics and the Academy of Dental Education Association.
References:
Boj JR, Catalá M, Mendoza A, Planells P, Cortés O. Odonto Pediatría: Bebés, niños y adolescentes. México DF. Odontología Books, 2019.
Boj JR, Catalá M, Mendoza A, Planells P, Cortés O, Odontopediatría. Bebés, niños y adolescentes. México DF. Odontología Books, 2019.